Judy Bleach Gel
YOUR HOUSE IS PERFECTLY CLEAN AND SANITARY
Judy Bleach Gel ,Perfect Hygiene throughout the house
Judy Bleach Gel is designed to thoroughly clean and disinfects the washable surfaces or the laundry can be treated with a Bleach detergent. Its ultra powerful formula allows bleaching, deodorizing, detaching and degreasing while making a pleasant freshness to the house. Thanks to its innovative texture, it adheres perfectly on surfaces and ensures a perfect cleanliness and à perfect hygiene.
Judy Bleach Gel is available in 1 fragrance: Floral bouquet
Judy Clorogel is available  in 1 size: 800 ml


Check that the surface or the laundry can be treated with a Bleach detergent.
Washable surfaces: To bleach and disinfect, dilute 50 – 90 ml of bleach gel in 3 liters of water. Leave in contact 5 minutes, rinse with water and dry. In case of fungi, increase the dose to 150 – 200 ml of gel for 3 liters, leave to act 15 minutes then rinse.
Toilets: To disinfect and deodorize, apply the product 150 – 200 ml on the edges of the toilet bowl and leave for 15 minutes, brush then flush.
Laundry by hand: To bleach, pour 75 – 100 ml of bleach gel in 5 liters of water, let soak 5 minutes maximum and carry out 3 rinses. For synthetic tissues use half of the dose.
Rubbish bins: To disinfect, pour 100 – 150 ml in 1 liter of water. Scrub, leave to act 15 minutes before rinsing.
Kitchen & sinks : To clean and refresh, pour the product on a damp sponge or directly on the surface to be cleaned. Leave in contact for 5 minutes then rinse with water.

Do not use for disinfection of edible foods and swimming pools.
To be used with gloves.
Do not transfer and do not use the empty bottle.
Do not use at the same time with acidic products and metals.
Keep away from the heat and the sunlight.
In case of splashing on the eyes or skin wash immediately with a lot of water, look for medical counsel.
In case of accidental ingestion, do not induce vomiting, request medical advice immediately and show this container and label.
Judy a clean world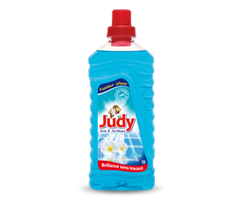 Leader in Tunisia, Judy Floors and surfaces cleans and perfumes all washable surfaces of the…
DISCOVER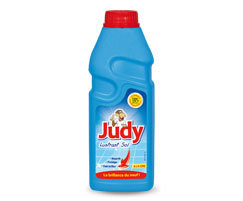 Judy Floor Polish is conceived to put the shine back on tiled floors. It nourishes,…
DISCOVER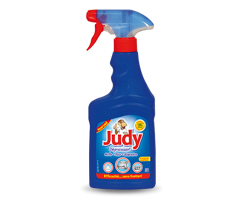 Judy Stain Remover with caustic soda removes stains and renovates the entire kitchen : oven,…
DISCOVER
OUR ADVICES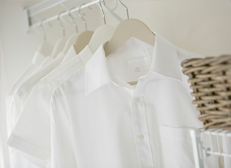 Various tips
Judy, leader on the Tunisian bleach market offers you both easy and effective tips!
DISCOVER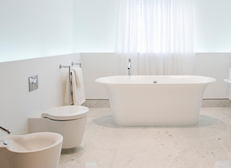 Domestic uses of bleach
Disinfects, deodorizes, sinks without trace ... Find all the household chores of the bleach!
DISCOVER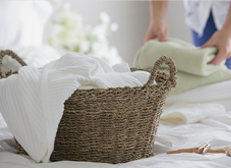 Laundry care with bleach
To ensure perfect hygiene, without rubbing off ... Discover how to protect your laundry with the help of Judy bleach.
DISCOVER